Banquet. Square. Round. Dressing for your shape requires the right wardrobe and a few styling tricks.
Banquet Reception Table Decorating Tips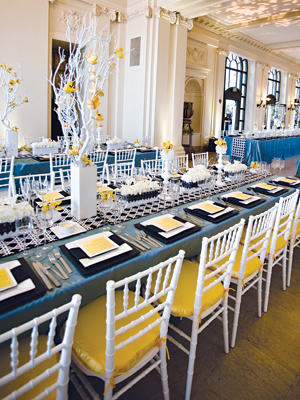 1. Reach High Break up the long, narrow tables height. This will give your tables some dimension. Be creative: Alternate between ceramic vases and candlesticks.

2. Balance It Out Consider the space. Oversized windows need to be balanced out. Longer tables are the perfect solution for giving more depth to a bare room and keep it from feeling cold.

3. Play Up Shapes Don't settle on round, standard plates. Let the place settings work together by mimicking the table's shape. And make a subtle point by using sharp sides.

4. Run Long Elongate the table by working the middle zone. Add texture by layering a graphic runner over a solid tablecloth. If you aren't into doubling up on linens, then let your centerpieces step in.

5. Disperse Details Rectangular tables have a lot of space to fill. (No pressure!) The trick here is to keep in mind that not every inch has to be covered. Prevent this potential color overload by using accent hues in a couple of strategic spots, like on the ballroom chair cushions, lining the middle of each table with tall candlesticks and on place settings by way of the menu or place cards.


When to Use Banquet Tables: High ceilings. Tall windows. Massive floor space. You've fallen head over heels with a room that needs some filling. The solution (yes, there is one!): Stretch your tables. Set these long, lean shapes in organized rows or in a U-shaped formation. Watch how the lines of color saturate your party room.
Round Reception Table Decorating Tips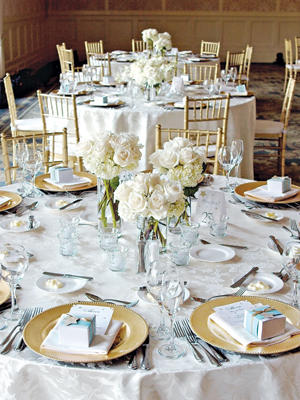 1. Think In Threes Sure, it's easy to commit to one arrangement, but why not work a trio? Group arrangements of similar colors and sizes in the middle.

2. Invite An Accent Too much white can be a little boring. Why not disperse a metallic, like gold, in specific areas? Get the job done with chairs, chargers and a hint on your favors.

3. Sweat The Small Stuff (Really!) There's something to be said about a style that's not so in-your-face. Subtle details often make a much prettier presentation. Yup, your guests will take note. The gold chargers can create a soft setting with detailing around the rim. Delicate strands of circles can then help pull it all together.

4. Shape Up A round size can get a little help from some other shapes. Introduce a rectangle and square on top of plates to keep it from being too dull.

5. Layer It On No one says you need to drench your tables in bright color. Bring in some texture through patterns like damask, florals, or stripes in a crisp ivory or eggshell.

Why Choose Round Nope, you aren't settling on the norm. There's a reason why we all love rounds (aside from the conversational benefits!). Circles don't need to follow any rules; they can mesh with just about any scenario. Here's a trick: Mix up the sizes! Add more visual interest by alternating between 60" and 72" rounds.
Square Reception Table Decorating Tips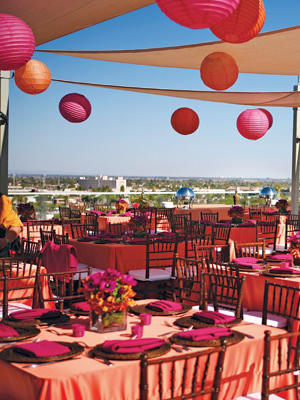 1. Find Similarities A square can be severe, so make connections: mahogany chairs and wicker chargers; orange table linens and paper lanterns; bright-pink napkins and anemones in the centerpieces.

2. Learn Geometry Squares are solid shapes, but they need some symmetry. Focus on how you surround them. Be sure to place an even number of chairs on all sides.

3. Bring In Circles Incorporate round accents to keep from feeling too edgy. You'll be shocked by how easy this can be. Place votives and chargers on tables and suspend circular lighting (aka those never-go-out-of-style paper lanterns) from the ceiling.

4. Light It Up Seat cushions are a soft way of drizzling a hint of color into your party spot (especially if you're tackling an outdoor space). Pick a hue that coordinates well with the rest of the palette. Cover the seat pads with a poppy shade of pink.

5. Add Formality Overexposing your tables immediately sets a casual tone. Conceal surfaces by dressing them in floor-length silk shantung linens.

Why Choose Square Tables Selected a party space that's not so well-defined? Maybe your wedding is on a lawn or a patio or at a vineyard under a tent. Establishing borders creates a sense of place. Square tables might do the trick. Don't line them up like soldiers; set them up at angles to give your space some excitement.