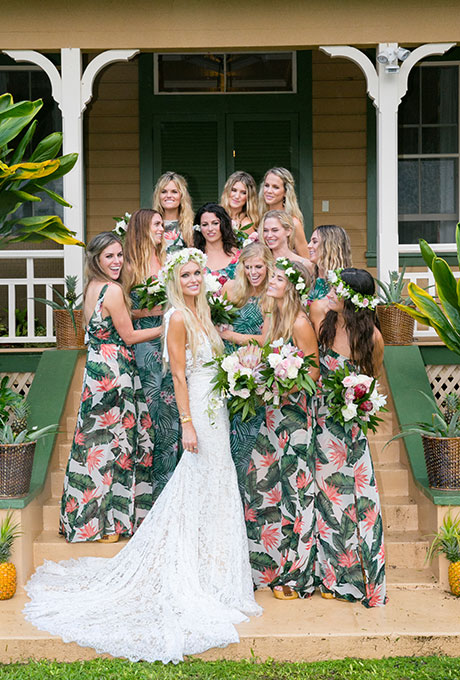 Long gone are the days when bridesmaids walked the aisle in matching dresses and the groomsmen escorted the guests while wearing the traditional black tux. Today, bridal party attire is often chosen as a reflection of the couple's wedding style as well as of the personalities of the men and women wearing it.
Throwing a boho wonderland in the woods? Bridesmaid dresses that mix and match lace and wildflower floral prints will create an ethereal vibe to complete your woodland theme. Hosting a Palm Springs affair? Groomsmen in brightly colored trousers will make a complementary statement. Having a quirky or eccentric wedding? Why choose one color when you can dress your bridesmaids and groomsmen in the colors of the rainbow?
The mismatched bridesmaid dress trend that quickly became popular in recent years has evolved into a variety of styles, from designated color palettes (think ombré or jewel tones) to variations of a central theme (a roaring '20s bash, anyone?). And brides who do prefer a more uniform look still find a way to make a statement their bridal party fashion by opting for patterned dresses (stripes! florals!) or those that are all texture (sequins!).
Even groomsmen are picking up on the stylish trends, going for a dapper look in tweed or dressing in a range of shades with a central hue. If they're really feeling playful, mix-and-match ties or bow ties and fun socks are always a favorite, and a few even play rebel by skipping the suit jackets in favor of flaunting bright suspenders or colorful vests.
Photo: These Show Me Your Mumu bridesmaid dresses draw inspiration from vintage Hawaiian barkcloth prints. Fun and playful, they're ideal for a tropical wedding.Photo: Matt Waugh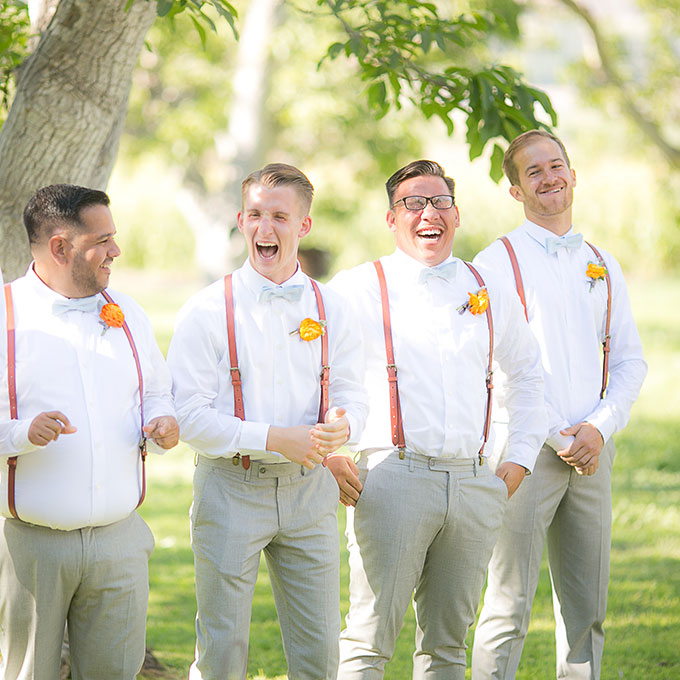 Salmon-hued suspenders add a pop of color to neutral groomsmen outfits.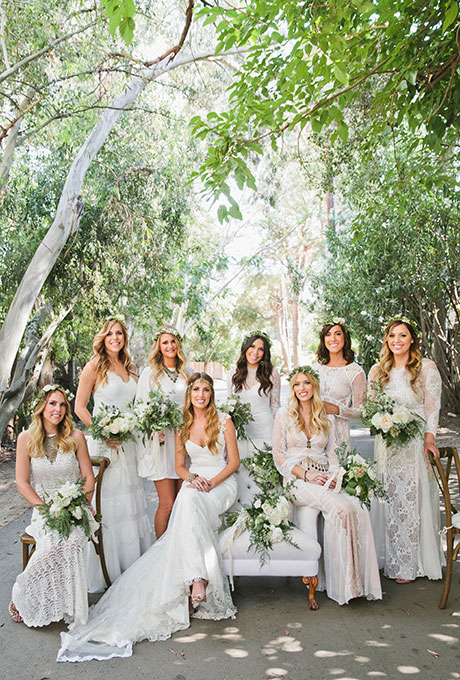 Break from tradition and dress your girls in white lace for a dreamy look.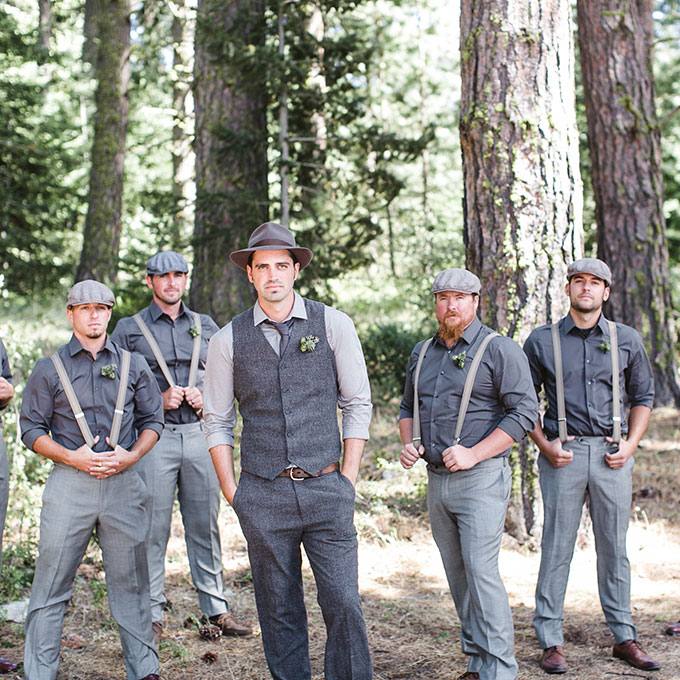 These guys know how to rock fifty shades of grey and newsboy caps in monochromatic vintage ensembles.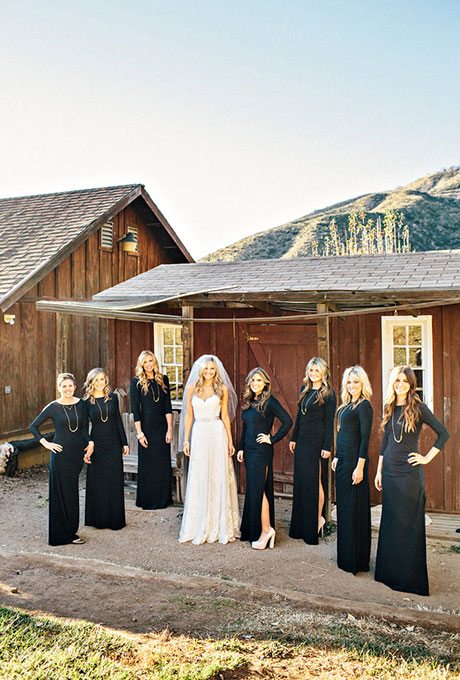 Black maxis are sharp and chic.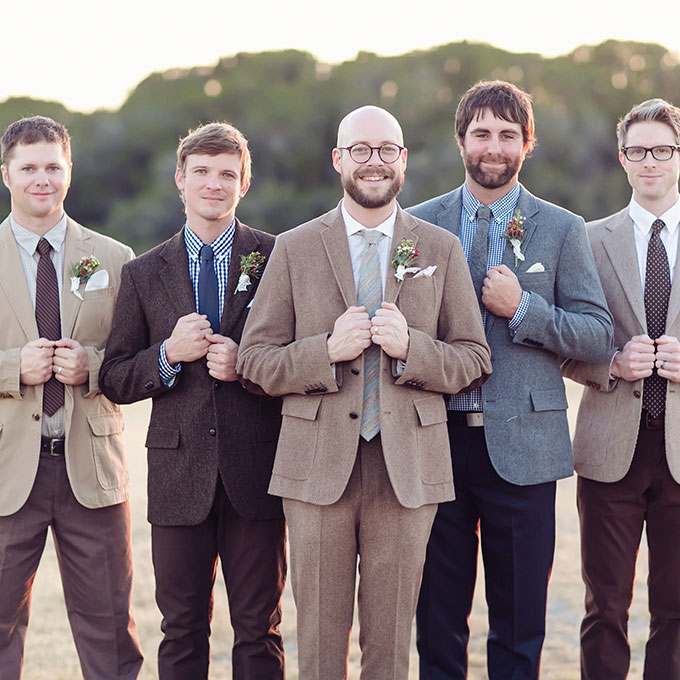 The bridesmaids aren't the only ones who know how to pull off a mis-matched look. These groomsmen pull off a variety of rustic colors in shades of taupe, brown, and blue.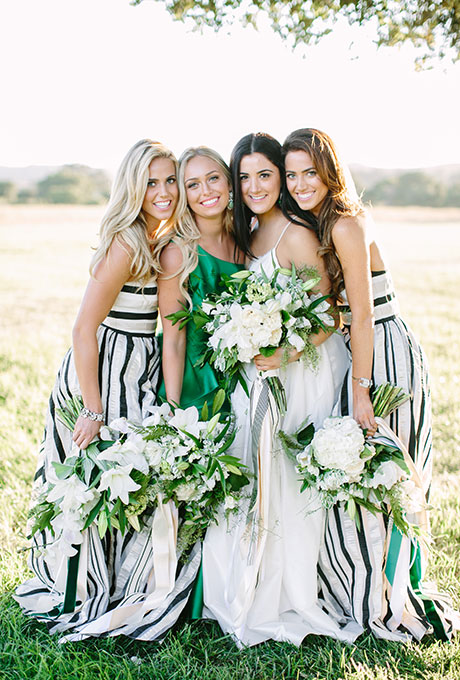 Striped bridesmaid dresses add a preppy and modern twist.